(Hello Ladies!)
–
–
I can tell you the exact day I became acquainted with Chicago fashion designer 
Maria Pinto. 
It was August 25, 2008 when 
Michelle Obama 
walked out on stage at the 
Democratic National Convention 
to speak about her husband 
Senator Barack Obama.
  The dress was feminine–yet professional.  It was simple–yet structured.  The color was 
not
 politically traditional….it was a striking teal color.
–
–
Michelle and her girls, with Sasha blowing a kiss to her dad while he addresses the Democratic National Convention via satellite on Aug. 25, 2008.   
Michelle is wearing a Maria Pinto design
 –
–
Maria's concept for her M2057 Collection
"Today's 'woman-on-the-go' was at the front of my mind when designing M2057. The collection reflects high quality design integrity, fit, and comfort, while being low maintenance and easy to care for. The fabrics all have stretch, are machine washable, and pack extremely well.  
The styles address a variety of women's body types, so customers can always find the most flattering look for them. 
M2057
 is your go-to dress that you love wearing because it's no fuss but also makes you feel beautiful."
To Read More;
 click on link below 
–
–
–
–
"Fashion and The Field Museum Collection 
by Maria Pinto"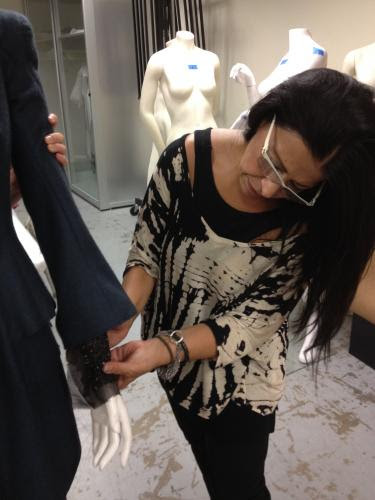 Maria Pinto adjusting an artifact for an exhibit she co-curated; 
now part of the 
permanent collection of
The Field Museum of 
Natural History in Chicago; 
one of the largest 
in the world and 
maintains
its status as a premier natural 
history 
museum 
through size & quality of its educational & scientific programs. 
–
Viewing the M2057 Collection:   
Click on site link below.  To receive updates of Maria's latest designs, news articles, events, etc. add your name to her newsletter located on the M2057 site..
–
–
–
–
Isabella, Gia, Franca and Jesse are the dress names
View the entire new M2057 Collection at link above 
–
Una giornata fantastica!
(Have a Fantastic Day!)
–
Camille
–