Tell me more about the 
effervescent
 Mellody Hobson Lucas?
–
–
1. She's Smart, Successful and Financially Savvy:  Mellody Hobson Lucas
, 44 has been the president of 
Ariel Investments, LLC,
 a Chicago-based investment management firm since 2000. Mellody Hobson is also chairman of the board of 
Ariel Investment Trust. 2. She's a Mentor:
  Speaking with 
Leanin.org
, Hobson explained that her firm's founder and then-president, 
John W. Rogers, Jr.,
 took an interest in encouraging her from her first day at Ariel Investments, and she's determined to pay that forward. 
"Now, as the President of Ariel Investments, I work hard to mentor and encourage our youngest teammates," Hobson said. "While there are many stories to share from my years at the firm, I often echo the advice of my mentor, 'What is the worst thing that could happen?'"
3. She Comes From a Big Family: Born to a single mom, Hobson is the youngest of six kids! She's also the first and only member of her family to graduate from college. She graduated from Princeton University.
4. She's All Over the Place:  Mellody is chairman of the board for DreamWorks Animation SKG Inc. as well as a director of Groupon Inc. and Starbucks Corporation. 
5. She Gives Back:  Per Forbes, Mellody "works with a variety of civic and professional institutions," which include serving as board member of the Field Museum, the Chicago Public Education Fund and the Sundance Institute.
Teachable Moments – Videos
 –
Mellody Hobson dispenses some of her savvy financial wisdom.. Mellody cites the example set by President Obama in quitting smoking in the Money Monday's article. 
Robin Roberts interview Mellody on Improving your Financial Health in the New Year and offers ways to save hundreds of dollars for your family. improving your credit score;
–
In the interview with 
Windy City's
Ryan Chiaverini;
 you'll be surprised to learn the Mellody uses only one credit card.  Last but 
not
 least is a video on ways to cool down your home heating costs.
–
–
–
–
–
In this "Money Mondays" [Tom Joyner] segment, Mellody Hobson discusses the link between fitness and money on February 17, 2014.
You are here this morning to talk to our listeners about keeping in shape?
"That's right, Tom! After all of this cold, I am thinking about being outside and moving! You may wonder what this ha s to do with Money Monday, but let me assure you, it has a lot to do with money! Keeping in shape, or getting back in shape, can really boost your bank account". For entire article or audio; Go To:  Why Being Healthy Means Saving Money
–
–
–
–
John W. Rogers, Jr. founder & Mellody Hobson, president 
–
–
–
– 
–
–
–
Mellody Hobson, president Ariel Investments, LLC,  
chairman of the board Ariel Investment Trust 
–
–
–
George Lucas, Mellody Hobson, First Lady Michelle Obama, Sidney Poitier, 
President Barack Obama, Paul Tereault at the gala re-opening of 
Ford's Theatre on Lincoln's 200th birthday_February 12, 2009
–
–
–
–
 –
The Lucas' are sharply dressed to the nines when
attending special events and almost always holding hands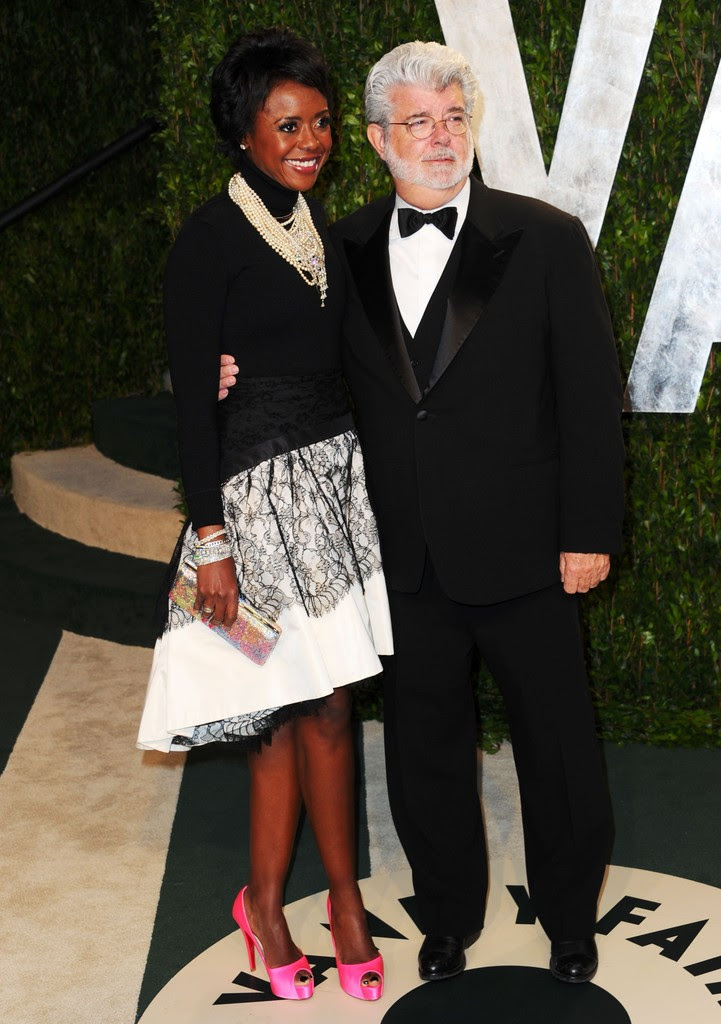 Mellody & George_Vanity Fair Oscar party_2012 
–
–
–
–
NCM Blog
February 14, 2014 
(Valentine's Day)
–
February 16, 2014
– 
– 
–