Will there be more Star Wars films directed by George Lucas? 
 NO & YES
–
–
George Lucas, 69, sold his production company, Lucasfilm Ltd., to the Walt Disney Company for $4.05 billion in October 2012. The powerful film producer Kathleen Kennedy is now the president of Lucasfilm Ltd.  George will be involved some of the technical aspects of the next Star Wars.
–
Ms. Kennedy partnered with "Star Trek" director J.J. Abrams has since signed on to direct the first in a series of planned "Star Wars" sequels, set to begin filming in 2015.
Teachable Moments – Videos
Oprah Winfrey interviews George as he reveals his inspiration for Star Wars and how he succeeded against the odds in the two "teachable moments" videos below. .
Good Morning America's Robin Roberts (her father was a Tuskegee Airman) interviews George Lucas and some of the cast members of Red Tails.
–
George heard the story of the 
Tuskegee Airmen 
20 years ago and wanted to make a movie about them.  
When 

no

 movie company wanted to bank roll Red Tails which has a mostly African American actors; George used $90 million of his own money to have it filmed. 
The video below is an example of purpose and commitment.
–
–
–
"I've never been that much of a money guy," Lucas says. "I'm more of a film guy, and most of the money I've made is in defense of trying to keep creative control of my movies." Lucas is speaking by phone, giving a reluctant interview about the sale ofLucasfilm. He tells the familiar story about how he didn't set out to be rich and powerful. He just wanted to make experimental movies like THX-1138, set in a futuristic world where sex is illegal, drug taking is mandatory, and brutal androids make sure people comply with the rules.
–
–
–
–
 –
George Lucas directing Mark Hamill (Luke Skywalker) 
 –
–
 –
 –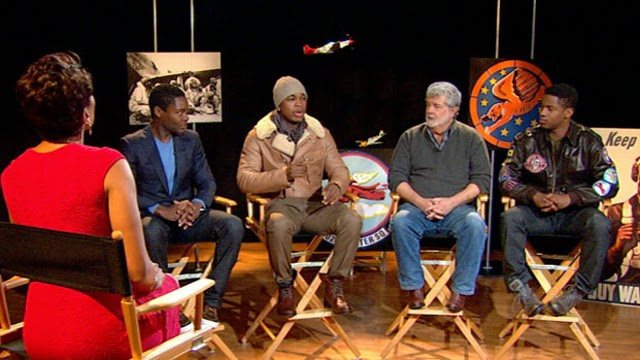 Robin Roberts interviews George Lucas & cast members of 
=
–
–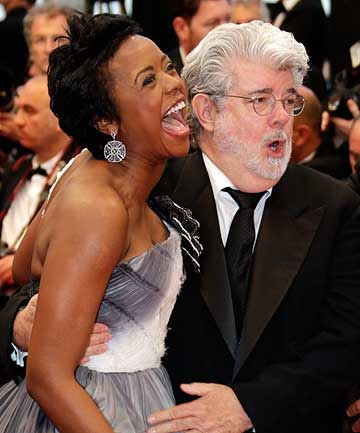 Mellody & George enjoying a good laugh at the 
65 Annual Cannes Film Festival
–
–
–
George and Mellody attend Oscar night a couple of years ago
–
–
 –
February 14, 2014 
(Valentine's Day)
–
–
–
Use Your Creative Gifts!
– 
Camille
–